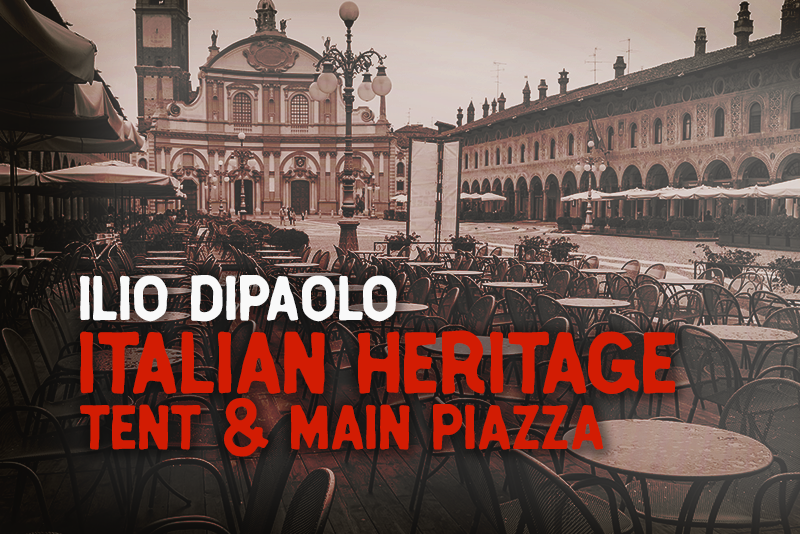 There are so many wonderful cultural experiences waiting for you to enjoy at this year's "Ilio DiPaolo Italian Heritage" tent and our main Russell J. Salvatore Piazza!
This beautifully recreated Italian Piazza features Roman Columns, fountains, tables and chairs adorned with red, green and white umbrellas. Relax on our park benches while people watching or catching "La dolce Vita", just like they do in Italy!
Take a photo by our authentic 100- year old Venetian gondola or in front of our giant Leaning Tower of Pisa.
Don't forget the ever popular Sicilian puppet shows that the kids will sure to love along with face paintings. Every day at our "Centro Bambini" we will have crafts just for kids!
One of our most popular traditions is our "Grape Stomping" which takes palace four times daily. Another festival tradition is the St. Anthony's statue for devotes which started back when the first Italian immigrants arrived in Buffalo.
Learn about your genealogy, hosted by our genealogist researchers or just sit back and enjoy our strolling musicians. Whether it's cultural displays and presentations along with a pictorial stroll of our Italian festival through the years. It's all here waiting for you!
Bring the entire family to Buffalo's beautiful waterfront and discover the wonderful culture and heritage of the great Italian people.
Peter LoJacono
HERITAGE EVENT SCHEDULE
The following events all take place in our Ilio DiPaolo Italian Heritage Tent or also in our Russell J. Salvatore Main Piazza
GRAPE STOMPING DAILY (In front of City Hall) @ 1,3,5 & 7
PUPPET SHOWS DAILY @ 12, 2, 4, 6 & 8
ITALIAN MASS: 11AM SUNDAY @ ST. ANTHONY'S
ANTHONY PROCESSION SUNDAY @ 12PM
TARANTELLA DANCERS PERFORMING DAILY
GENEALOGY DAILY FROM 11-8PM
CHURCH & MUSEUM TOURS DAILY
CRAFTS FOR KIDS ALL TIMES BOTH DAYS
FACE PAINTING BOTH DAYS ALL TINMES
SPEAK ITALIAN
| | | |
| --- | --- | --- |
| Word/Phrase | | Meaning |
| Ciao | – | Hi/Bye |
| Buon Giorno | – | Good Morning |
| Buon Pomeriggio | – | Good Afternoon |
| Buona Sera | – | Good Evening |
| Buona Notte | – | Good Night |
| Arrivederci | – | See You Later? |
| Come Stai? | – | How Are You |
| Sto Bene | – | I am Well |
| Mangia | – | Eat |
| | | |
| --- | --- | --- |
| Word/Phrase | | Meaning |
| Bevi | – | Drink |
| Delizioso | – | Delicious |
| Parli Italiano | – | Do You Speak Italian? |
| Si | – | Yes |
| No | – | No |
| Per Favore | – | Please |
| Grazie | – | Thank You |
| Prego | – | You are Welcome |
| Scusa/Mi Scusa | – | Excuse Me |